Top 10 Best Hotels in Lagos: Top Hotels in Lagos Ranked
Lagos is Africa's economic hub. It is also the largest city in Africa by population. Afrilens News brings the top 10 best hotels in Lagos for you, ranked according to their service offering, serenity, and hospitality; the very essence which we factor our ranking on the most.
The Wheatbaker Hotel Lagos
This hotel is an impeccable hub for business trips, honeymoons or just to unwind. It is one of the best hotels in Nigeria. Accommodation in this hotel is sumptuous, deluxe rooms, fitness and spa facilities, laundry services, outdoor swimming pool and other top-notch facilities. The hotel is nothing less than fantastic and is specialized in luxury to enhance a relaxing. Its exquisite amenities are built to ensure an unparalleled sense of comfort. The hotel offers many unique recreational opportunities such as spa, steam room, sauna, massages and an outdoor pool. It is located at 4, Onitolo Lawrence Road, Ikoyi, Lagos.
2. The George
The George provides its guests with exceptional levels of luxury services and a standard expected of a first-class hotel. Some of these services are car hire and chauffeur services, Late departure, onsite dentist and doctor, Local and international flower delivery, high-speed wi-fi, Laundry Service, Purchase of artwork, and so many more. It is located at 30, Lugard Road, Ikoyi.This signature hotel is one of the finest hotels in the world well located in the prestigious suburb of Ikoyi, Lagos.  Dining in The Da Vinci Bar & Restaurant is a culinary experience to savour. To compliment your elegant dining experience, there is also an extensive wine selection, collected from around the world. Modern conference and meeting facilities are located on the ground floor and offer the best equipment needed.
3. Radisson Blu Anchorage Hotel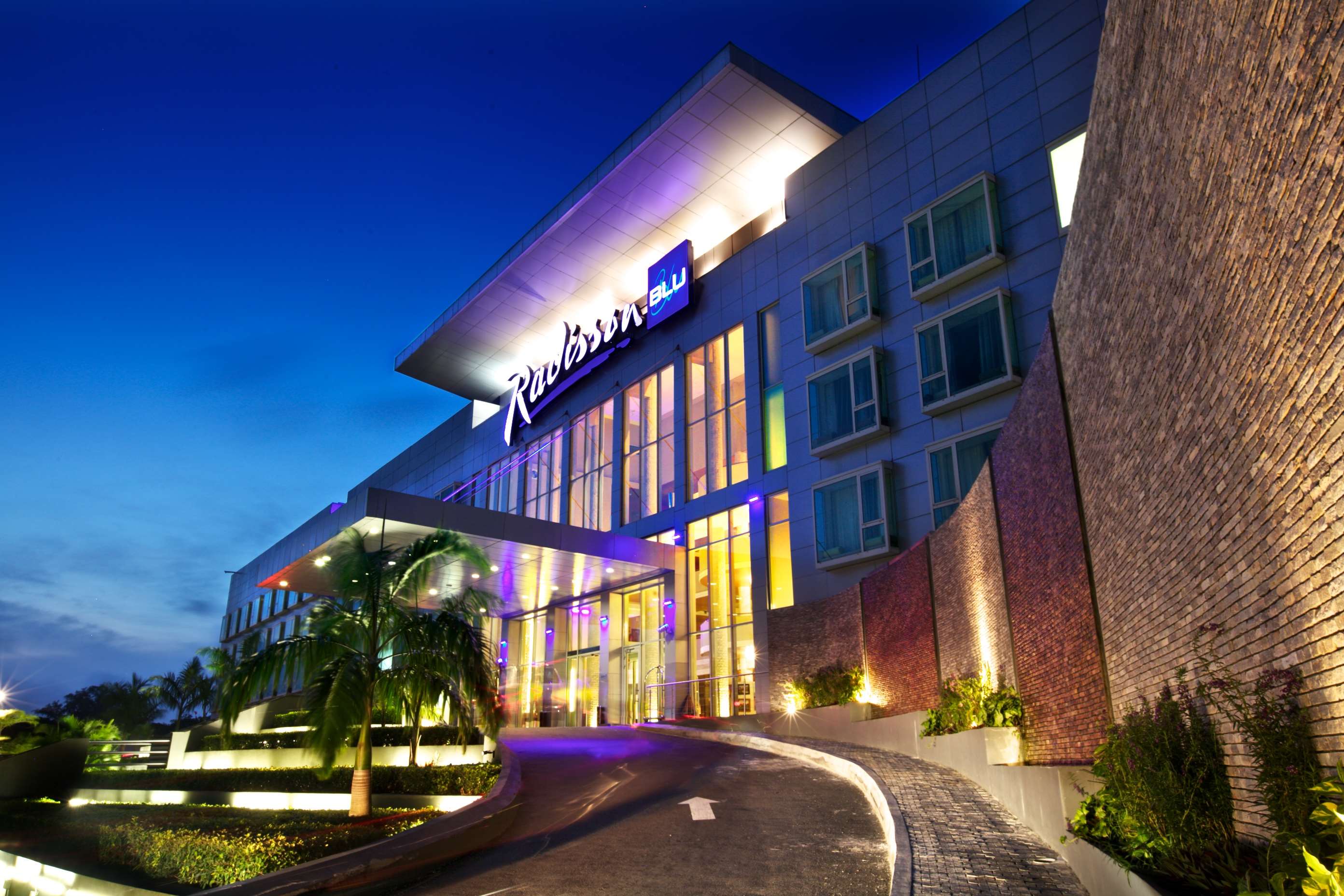 The Radisson Blu Anchorage Hotel is an abode of stylish retreats. This is a magnificent haven of comfort from where you can enjoy all the luxury you can ever think of. This superb hotel features 170 rooms and suites, all styled by Swedish designer Christian Lundwall. Take a culinary journey at Voyage Restaurant, which offers international classics as well as local dishes. You can also enjoy a glass of wine paired with a local favourite, such as beef or chicken suya at Surface Bar and Grills Radisson Blu is a perfect spot for a meeting, a private party, or a comfort hub. It is located at 1 Ozumba Mbadiwe Avenue, Victoria Island, Lagos.
4. The Federal Palace Hotel and Casino
This hotel connects the past to the present and gives a real sense of what luxury is. This resplendent abode overlooks the mighty Atlantic Ocean and it is designed to international corporate standards. Featuring, plush furnishings, polished modern rooms, free Wi-Fi, flat-screen TVs, minibars, desks, and tea and coffee making facilities, this "posada" offers you the best "out of home" experience. It is located at 6 – 8 Ahmadu Bello Way Victoria Island, Lagos.
5. The Moorhouse Ikoyi, Lagos
The Moorhouse Ikoyi, Lagos offers a safe haven in the bustling city of Lagos. It is bound to impress anyone with its luxurious and beautifully designed warm and modern rooms which come with free Wi-Fi, flat-screen TVs, safes, and tea and coffee making facilities.
This exquisite abode offers 94 Luxurious rooms including suites, a culinary restaurant, an exquisite wine bar, 2 meeting rooms and a boardroom, a swimming pool, and a fitness centre. Parking and breakfast served in the international restaurant are free. Additional amenities include a bar, a gym, and an outdoor pool. Massage services are available. It is located at 1 Bankole Oki Road Ikoyi, Lagos.
Sheraton Lagos Hotel is one of the best hotels not just in Lagos but in Nigeria as a whole. Sheraton is the exact place to be! It provides a perfect place to relax and unwind after a long day. With 325 guest rooms and 7 suites furnished with the signature, Sheraton Sweet Sleeper Bed which provides superior comfort makes Sheraton the first go to for top-notch relaxation. The club rooms access a private lounge with complimentary breakfast. This luxury spot boasts a variety of appetising dining experiences, world-class accommodation and exclusive services including a full-service spa and fitness centre and a glittering infinity. It is located at 30 Mobolaji Bank, Anthony Way, Lagos.
7. Eko Hotel
Eko Hotel is for sure one of the best and most prestigious luxury hotels in Lagos. Eko Hotel is spread over three buildings and has spectacular views of the Atlantic Ocean and the Kuramo Lagoon. Eko Hotel & Suites stands out as a place to stay when in Lagos for business or for recreation. The hotel has a terrace and spa centre, and guests can enjoy a meal at the restaurant. Free WiFi is available and free private parking is available on site. The outdoor pool, barbeque, and playground will sure give you a sense of comfort. It is located on Adetokunbo Ademola Street, Lagos.
8. The Blowfish
The Blowfish introduces a new world to you. This colourful luxury hotel is an escape from stress, fatigue, and unpleasant sights. The beautiful ambience in this environment builds a world of fantasy around you. Quality seems to seep from every detail. Amenities include an outdoor pool and a bar with a terrace. Of the 4 restaurants, 1 has pool views and Italian cuisine, 1 serves Japanese cuisine, and 1 offers eclectic cuisine and regular live jazz. The superbly designed rooms have flat-screen TVs, safes, and free Wi-Fi.  The Blowfish brings the world to your fingertips. It is located at 17, Oju Olobun Street, Off Idejo Street, Victoria Island.
9. Protea Hotel
If you are looking for a realm of outstanding luxury and indulgences, look no further as Protea Hotel Ikeja is the place to be. With outstanding facilities such as; an outdoor pool, a fitness centre, and massage treatments, as well as a sophisticated regional restaurant and a 24-hour cocktail bar, Protea thrives as a perfect aura of comfort. Redefining luxury and business the hotel's meeting rooms seat up to 160 delegates. For undeniably great service, continental cuisine, and excellent conference facilities Protea Hotel is the right hub. It is located on Isaac John Street, Lagos, Ikeja.
Southern Sun Hotel is equipped with modern facilities and contemporary comfort. This grand hotel offers a variety of luxury rooms. The suites also add Living and Dining areas. Rooms here will provide you with a flat-screen TV, air conditioning, a minibar, a shower, and private bathrooms. Whether it's a weekend getaway, a business treat, or a couple's retreat, beautiful Southern Sun Hotel serves a perfect place for all. It is located at 47, Alfred Rewane Road, Ikoyi.
By: Chinenye Okolo and formatted for viewing on Afrilens News by Ese Okpobiri.